Premium Siding Installation Services for Residents of Rosemount, MN, and Surrounding Communities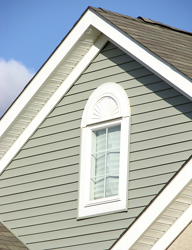 For seamless steel siding installation services, residents of Rosemount, Minnesota, have turned to DuBois ABC Seamless for over 35 years. Customers choose us because of our experience and vast industry knowledge. They also choose us because of the high level of craftsmanship that our factory-trained installers possess. What's more, they rely on us for beautiful, seamless cladding to make their homes look great.
In addition to receiving premium customer service when you hire DuBois ABC Seamless for your home improvement needs, you will be able to choose from some of the most durable, high-performing products available on the market today. This includes our seamless steel siding, which has many attractive benefits, including:
Durability – Our siding is made from 28-gague galvanized steel that will never, warp, rot, or crack for the entire lifetime of your home. And it's built to stand up against even the most frigid climate conditions sometimes experienced in the Rosemount, MN, area.
Low maintenance requirements – Our steel cladding requires virtually no upkeep and will never need to be repainted, meaning it will look great for years with very little effort on your part.
Seamless beauty – Without seams, cracks, or crevices in your new siding, there will be no place for dirt and debris to collect, and no areas for insects to nest. It will also blend perfectly with your home, and won't look like some hastily tacked-on addition.
Best of all, you will be able to have peace of mind in your new investment. That's because all of our steel siding products are backed by a lifetime material warranty as well as a 10-year workmanship warranty.
For more information on our seamless steel siding, contact DuBois ABC Seamless today. We would be happy to set up a consultation at your Rosemount, MN, home.