The Premier Choice for Steel Siding in River Falls, WI – DuBois ABC Seamless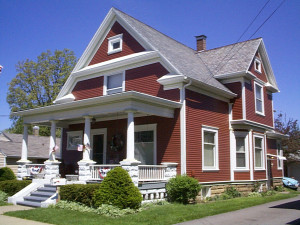 DuBois ABC Seamless offers and installs seamless steel siding on homes in and around River Falls, Wisconsin. Our products are engineered for maximum durability and performance, and our installers are highly trained professionals that utilize superior installation techniques. You can count on us to take care of all your siding needs and leave you completely satisfied with your investment.
At DuBois ABC Seamless, we work tirelessly to fulfill our commitment to customer satisfaction. How? By giving you the personalized care and attention you deserve with premium services such as:
In-home consultations and planning meetings to ensure that all of your specific needs are met
Professional installers who will respect your home by keeping the jobsite clean and orderly while utilizing expert installation methods to ensure maximum performance and longevity for your new siding
Timely completion of every project with no jumping from job to job like other contractors
When you choose DuBois ABC Seamless for your siding needs, you don't just get great service, you also get a great product. Our seamless cladding is constructed from hot-dipped, galvanized steel and built to withstand the often frigid climate in River Falls, WI. Our cladding will never warp, crack, or rot, and because it is seamless, there are no crevices where dirt can collect or bugs can nest.
Perhaps best of all, you will rest easy knowing that your investment in new siding is protected by a lifetime material warranty and a 10-year workmanship warranty for added peace of mind.
For more information on what makes us the premium choice for siding and other home improvement products and services, contact DuBois ABC Seamless today. Whatever your needs might be, our product specialists will be delighted to help you find a home improvement solution tailored specifically to you and your River Falls, WI, home.