Attractive and Durable Siding Installed on Homes Throughout Cottage Grove, MN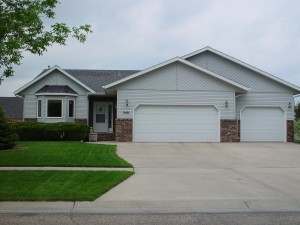 For siding that is sure to keep your home in Cottage Grove, Minnesota, thoroughly protected for years to come, turn to DuBois ABC Seamless. We have been serving residents of the area since 1980 with expert installations and outstanding customer service. In fact, we only use our own highly trained employees for all of our siding installations, which means you'll receive top-notch workmanship from a team that upholds our high standards of customer satisfaction.
When you trust DuBois ABC Seamless to take care of your home exterior, we'll install our top-of-the-line seamless steel siding for you. Not only is it made from heavy-duty galvanized steel, it's manufactured on site at your home in Cottage Grove, MN. This allows us to cut the panels to the exact dimensions of your house to completely eliminate the occurrence of seams, making them more structurally sound and aesthetically pleasing than other siding. That way, your home will not only have curb appeal, it will also receive maximum protection from:
Infestations – Our seamless steel helps prevent insects from being able to crawl into your walls and slowly destroy your home from the inside.
Damage – The heavy-gauge steel resists impacts from hail, wind-blown debris, and more, and its surface will retain its color for years without ever fading or cracking from damage due to prolonged exposure to sunlight.
Heat transfer – Our siding has thick insulation built in, helping to ease the burden on your HVAC system to maintain a consistently comfortable indoor temperature.
Fire – Because steel is flame retardant, it will help prevent your home from catching fire.
What's more, we back all of our siding with a Lifetime Material Warranty, as well as a 10-year workmanship warranty. That way, you can rest assured that your purchase is protected.
If you'd like more information about the siding that we offer and install for homeowners in Cottage Grove, Minnesota, and beyond, contact DuBois ABC Seamless today.