Roofing Specialists Serving Minneapolis, MN: DuBois ABC Seamless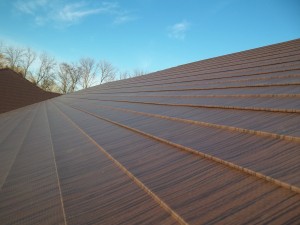 Having the right roofing materials installed on your home in or near Minneapolis, Minnesota, is important. Materials like asphalt shingles or cedar shake need to be replaced periodically because they aren't made to last long. Plus, they don't hold up well in severe weather, as high winds and blown debris or hail can render asphalt or wood shingles unstable, leaving your home vulnerable to serious damage. By contrast, DuBois ABC Seamless offers rugged roofing materials made from industrial-grade steel, which offers unequalled, lifetime protection for your home.
With roofing from DuBois, you will have a veritable helmet of steel installed on your home, with every piece connected to the rest using a four-way interlocking system that is guaranteed to hold fast even in winds up to 160 mph. Plus, with expert craftsmen screw-securing the entire roof in place, you can trust that your new roof system will not move, shift, or otherwise fail when storm winds blow.
Some of the other benefits of our roofing systems include:
Superior protection – Not only will a steel roof protect your home from impact damage, but because it is not flammable, steel provides additional shelter from hazards like fireworks or embers from bonfires.
Superior insulation – Our seamless steel roofing can help reduce your energy costs by super-insulating your home and reflecting heat-inducing UV rays, reducing the work your HVAC system needs to do to keep the inside of your home at a comfortable temperature.
Beautiful appearance – With an astounding array of colors and styles, you're sure to find the right look to match your home's architecture and your personality.
To learn more about our amazing steel roofing and how it can help protect your home in or near Minneapolis, MN, contact the pros at DuBois ABC Seamless today.