Seamless Steel Roofing for Homeowners in or near Eagan, MN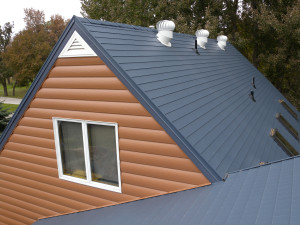 DuBois ABC Seamless offers lifetime roofing options for homeowners in Eagan, Minnesota, who want to better protect their homes, and also decrease the workload on their heating and cooling systems. We have faithfully served residents in the region since 1980, installing metal roofing that is known as much for its attractiveness as it is for its durability. In fact, a steel roof from DuBois ABC Seamless is the last roof you'll ever need to have installed atop your home.
Thanks to construction from 28-gauge, hot-dipped galvanized steel, our metal roofing products provide a number of impressive benefits for homes in the Eagan, MN, area, including:
Energy efficiency – Thanks to the Cool Roof Technology built into our roofing products, sunlight is reflected away from your home, which can help reduce your utility bills year-round.
Fire protection – Steel does not burn, which means sparks from fireworks, bonfires, falling embers, and other causes of roofing fires won't be a concern.
Impact resistance – A steel roof will protect your home from hail and wind-blown debris, providing a veritable helmet for your home to shield it from damage.
Plus, steel roofs have come a long way in recent years, and are now fabricated to resemble the more traditional asphalt shingles, for those homeowners who want to maintain that classic look while still providing the increased protection of steel. Steel roofs are also made nowadays with impressive insulation, as well as sound-dampening features so that they aren't any noisier than other roofing products during rainy conditions. In addition, an impressive coating material ensures these roofs will look as good as new for many years and won't fade even in the face of harsh sun exposure.
To learn more about metal roofing and the variety of benefits it can provide for your home in Eagan, MN, or any other nearby community, contact DuBoid ABC Seamless today.