Seamless Steel House Siding Available to Residents of Hudson, MN, and Nearby Areas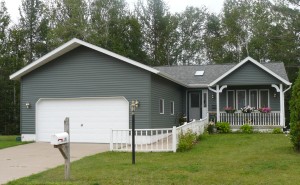 If you want to have siding installed on your house in the Hudson, Minnesota, area, there is only one name you need to know – DuBois ABC Seamless. Since our founding in 1993, we have maintained a commitment to excellence and integrity by offering premium siding products installed by highly trained professionals at a fair price, and we would be delighted to have the opportunity to provide the same great service to you.
The house siding that we offer at DuBois ABC Seamless is some of the best cladding available on the market today. It boasts impressive features and benefits, such as:
Galvanized steel construction – Your siding will be able to withstand exposure to the frigid temperatures in the Hudson, MN, area, without warping or cracking.
Seamless Installation – There will be no cracks or crevices where grime can collect or insects can nest.
Maintenance-free finish – Your siding won't have to be sanded, scraped, or repainted down the line
Availability in many styles and colors – You are sure to find something to match or update the look of your home's exterior.
Best of all, our house siding is backed by a comprehensive lifetime warranty. We also offer a 10-year labor warranty on our installation services. You will be hard pressed to find a local competitor that can offer that kind of peace of mind.
To learn more about the benefits of having new house siding installed on your home, contact DuBois ABC Seamless today. We would be glad to set up a free consultation at your home in the Hudson, MN, area.