The Importance of Fully Functioning Gutters for Your Stillwater, MN, Home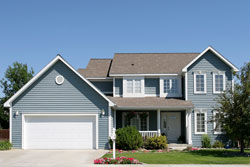 Having gutters that are free of cracks, leaks, and debris is essential to maintaining the structural integrity of your Stillwater, Minnesota, home. Gutters that are clogged or otherwise in disrepair are more than just an eyesore, they can cause serious lasting damage to your roof, walls, topsoil, basement, and even your foundation. These problems can lead to costly repairs down the road and in some cases irreparable damage to your home and your belongings.
When your gutters are clogged, it can overflow with rainwater and snowmelt, causing water to spill over the edge and seep into your roof. This kind of water damage can severely weaken your roof and can also lead to mold and mildew formation. Not only that, a leaking or overflowing gutter may cause large puddles to form at the base of your home. Over time, this can cause top soil erosion and damage the foundation of your home. It can also lead to basement flooding which can damage your flooring, appliances, electronics, and other belongings.
The best way to avoid these headaches is to have a new seamless steel gutter system from DuBois ABC Seamless installed on your Stillwater, MN, home. Our gutters are specifically engineered and custom cut to fit the exact dimensions of your home, so there will be no seams where leaks would likely be able to form. Plus, we also have a gutter cover system that can help prevent your gutters from clogging so you never have to clean them again.
To learn more about the benefits of having seamless steel gutters installed at your Stillwater, MN, home, contact the pros at DuBois ABC Seamless today.