Having Seamless Steel Gutters Installed Can Improve Your Rosemount, MN, Home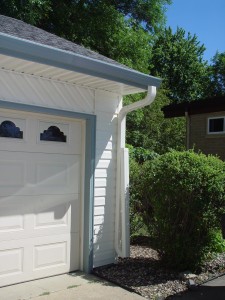 If the gutters on your Rosemount, Minnesota, home are old or malfunctioning, it might be time to call the pros at DuBois ABC Seamless for a replacement. Gutter systems are extremely important to protecting the beauty and structural integrity of your home. Leaky, overflowing, or malfunctioning gutter systems can cause a number of problems for homeowners. For example, gutters that are constantly leaking can erode the foundation and topsoil around your home and can also cause flooding in your basement or crawlspace. Additionally, water overflow that seeps into your roof can result in damage to the structure of your home. Furthermore, leakage and overflow of filthy rainwater can cause an eyesore as it dirties the side of your house and begins to wash away the paint.
To avoid these and other problems caused by faulty gutters, you can hire DuBois ABC Seamless to install a brand-new seamless steel gutter system. Our products are some of the most beautiful, durable, and high-performing gutter systems available today, with features like:
A discreet design that will blend seamlessly with your home and availability in a range of colors that you can choose from to match or complement the existing soffit, fascia, and siding on your house.
A perfect fit for your home, as our gutters are manufactured onsite to fit the exact dimensions of your house
Heavy-duty, 28-gauge galvanized steel construction that is built to last even in the often wet, frigid Rosemount, MN, climate
High-capacity downspouts that efficiently transport up to 30 percent more water than standard gutters
And more
Best of all, our seamless steel gutters are backed by a lifetime material warranty. Also, the labor we perform during installation is covered by a 10-year workmanship warranty for extra peace of mind.
Don't wait for your old or faulty gutters to cause more problems for your home – contact DuBois ABC Seamless today for a new seamless steel gutter system. We are proud to serve residents of Rosemount, MN, and beyond.