New Gutters Can Help Protect Your River Falls, WI, Home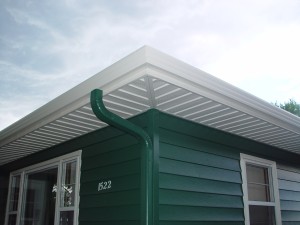 Residents of River Falls, Wisconsin, and surrounding cities who want to have new gutters installed on their homes should look to the trusted experts at DuBois ABC Seamless. For over thirty years, we have helped residents to improve and protect their homes by providing them with durable and high-performing gutters that are also visually appealing. Our commitment to helping customers effectively improve their homes has earned us a spot on the Top 500 list of Qualified Remodeler Magazine for several years in a row.
When you decide to have new gutters installed by DuBois ABC Seamless, you are making an investment in the longevity, curb appeal, and overall property value of your home. Consider the following features and benefits of a having a fully functioning gutter system on your home:
Having gutters that are free of leaks will prevent topsoil and foundation erosion around your home, as well as preventing ugly smudges and streaks on your home's exterior caused by dirty rainwater.
Our gutters are constructed from 28-gauge, hot-dipped, galvanized steel that will never crack, warp, or rot, and they are built to withstand the often wet and cold weather conditions in the River Falls, WI, area, so you won't ever have to worry about them deteriorating over time.
Our gutters are available in a variety of colors and are designed to integrate discreetly with the existing structure.
Our gutter systems have high-capacity downspouts engineered to safely and effectively drain rainwater away from your home even during the most torrential downpours.
In addition to these benefits, you can take comfort in knowing that your investment is protected by a lifetime material warranty when you choose to have DuBois ABC Seamless install new gutters on your home. We also stand by the expertise of our installation professionals with a 10-year labor warranty, for additional peace of mind.
If you decide to improve your residence with new gutters, contact DuBois ABC Seamless today to speak with one of our gutter specialists who will help you find the right product for your River Falls, WI, home. Be sure to ask about the range of financing options we offer.