Make Sure the Gutters on Your Minneapolis Home Are in Good Shape or it May Lead to Costly Problems Down the Road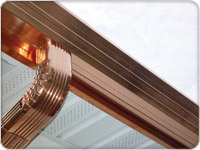 Are your gutters leaking or overflowing? If so, you may be causing more damage to your home than you are aware of. Leaking and overflowing gutters aren't just an eyesore; they can cause severe damage to your home if left untreated over a long period of time.
New Gutters Can Help You Avoid the Following Headaches
Topsoil Erosion
Water that leaks from your gutters can erode the topsoil around your home.
Foundation Damage
Topsoil erosion can weaken the foundation of your home, which can cost thousands of dollars to repair and may even result in irreparable damage.
Roof Damage
If water overflows constantly form your gutters, it can seep into your roof and damage the surrounding walls, ceiling, and supports, even if your roof is brand new.
Basement Flooding
If left unchecked, overflow from your gutters can leak into your basement and damage the belongings that are stored there.
Thank goodness DuBois ABC Seamless is here to provide you with new gutters and to custom size and install them with care and precision. Our gutters are seamless, meaning they are much less likely to leak because there are no pre-existing gaps, cracks, or crevices. Plus, our downspouts are 33 percent larger than standard ones so they can handle runoff from even the heaviest rainfalls.
To learn more about how our gutters can help you avoid costly problems, contact DuBois ABC Seamless today and set up a consultation at your Minneapolis, MN, home.