Having Seamless Steel Gutters Installed Can Increase the Value and Longevity of Your Maplewood, MN, Home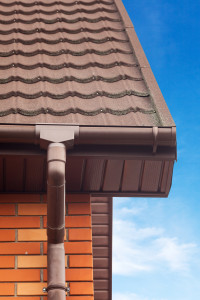 If the gutters on your home in Maplewood, Minnesota, are damaged or aging, it's time to call the pros at DuBois ABC Seamless for replacement services. We offer top-of-the-line gutter products, and our installation professionals are factory trained and utilize superior installation techniques to ensure optimum performance and longevity for your new gutters.
Having a gutter system that is free of defects and functions properly is essential. Why? Because leaking or overflowing gutters can cause serious problems for your Maplewood, MN, home. First off, it can cause an eyesore as grimy water drips down and dirties the exterior of your house. What's worse, the excess water that leaks out of your gutters can erode the foundation of your home and the topsoil around it. This can significantly reduce the property value of your home and cause you many headaches in the future. A malfunctioning gutter system can even cause flooding in your basement or crawlspace.
These problems can be easily avoided by having new gutters installed from DuBois ABC Seamless. Our seamless steel gutter systems possess a wide range of features and benefits, including:
A seamless design that effectively prevents leakage
Durable steel construction means your gutter system won't crack or dent like aluminum or vinyl options can
High-volume downspouts that carry up to 30 percent more water than standard downspouts
Steel hangers that can handle the weight of large ice loads and heavy rainfall drainage
Beautiful "fascia-style" designs that will blend in perfectly with your home
Perhaps best of all, you will rest easy knowing your investment in new gutters is backed by a lifetime warranty. We also stand by the expertise of our installers with a 10-year workmanship warranty, as well.
For more information on how your home can benefit from having new gutters installed, contact DuBois ABC Seamless today and schedule an on-site consultation with one of our gutter specialists at your Maplewood, MN, home. And don't forget to ask about our range of financing options.