For Gutters that Will Protect the Foundation of Your Edina, MN, Home for Years to Come, Trust DuBois ABC Seamless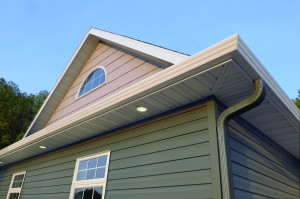 If the gutters of your home in Edina, Minnesota, are leaking, overflowing, or falling away from your roof, it's time to look for a proper replacement. At DuBois ABC Seamless, we have been installing premium seamless gutter systems since 1993, so you can rely on us for expert installations of top-quality products. We proudly install state-of-the-art steel gutters that we manufacture onsite to the exact dimensions of your house for a perfect fit without any leaky seams.
In addition to the absence of leaky seams, our designer gutters have a plethora of other qualities that will benefit your Edina, MN, home, including:
Aesthetics – Rather than sticking out like traditional gutter systems, ours are integrated into your house's soffit and fascia system for a unified appearance that improves curb appeal.
Durability – Because our gutters are made from heavy-duty steel, they will last for years to come and won't warp, crack, dent, or bend in spite of impacts or extreme weather.
High-volume performance – Our gutter systems are 30 percent larger than traditional ones and have larger downspouts that are capable of carrying away twice the volume of water that typical downspouts can manage.
When you turn to DuBois ABC Seamless, you'll receive gutters that are built to last a lifetime. That's why they come backed by our Lifetime Material Warranty for the assurance that your purchase is protected, as well as a 10-year warranty for workmanship.
If you'd like more information about the seamless steel gutters that we offer and install for residents of Edina, Minnesota, and beyond, contact DuBois ABC Seamless today.