Having Seamless Steel Gutters Installed Is a Great Way to Protect the Foundation of Your Home in Eden Prairie, MN, from Erosion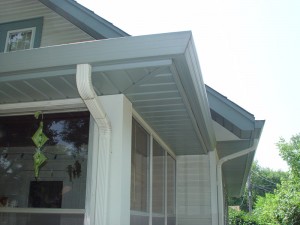 If you need new gutters for your home in Eden Prairie or elsewhere in Minnesota, turn to DuBois ABC Seamless. Our seamless steel gutter systems outperform traditional ones in every way, so they're perfect for protecting your home's foundation from erosion due to heavy snowmelt or rainfall. Our gutters are even designed to blend in discreetly with your home's soffit and fascia system with hidden fasteners for an attractive look and secure fit.
When you turn to DuBois ABC Seamless to have new gutters installed on your house in Eden Prairie, MN, you can be sure that they will perform well for years to come, especially because they are:
Fabricated onsite to the exact dimensions of your home to completely eliminate leaky and unsightly seams
Designed to be larger than conventional gutters for maximum water flow to keep up with heavy rain and large amounts of snowmelt
Made from heavy-duty steel for enough sturdiness and strength to withstand the harshest of conditions, including hailstorms, heavy rain, snow buildup, and high winds.
Available in a variety of colors to complement the aesthetics of different homes without ever needing maintenance work like scraping or painting
What's more, when we install our premium gutters on your home, you can rest assured that your purchase is completely protected. Not only are our gutter systems backed by our Lifetime Material Warranty, they are also covered by a 10-year workmanship warranty for your peace of mind.
To learn more about how our seamless steel gutters can improve your home in the Eden Prairie area of Minnesota, contact DuBois ABC Seamless today.