Have the Old, Leaky Gutters on Your Home in Bloomington, MN, Replaced with a Seamless Steel Gutter System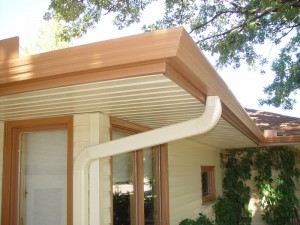 Traditional gutters aren't always able to keep up with the volume of water that they need to handle in Bloomington and elsewhere in Minnesota, especially once the snow on the rooftops starts melting, and they often leak through the seams, allowing water to erode away at the homes' foundations. If you want to make sure your house is properly protected from water damage, turn to the experts at DuBois ABC Seamless. We proudly install top-of-the-line seamless steel gutters that are designed to handle rainwater and snowmelt better than any conventional gutter system.
At DuBois ABC Seamless, we offer and install gutters that are designed to integrate into the soffit and fascia system with hidden fasteners. That way, the gutter system on your Bloomington, MN, home will be discreet rather than unseemly, along with these other excellent qualities:
A perfect, seamless fit on your house, manufactured on site for proper measuring and cutting, which eliminates leakage issues
Larger size than traditional gutter systems, as well as larger downspouts, for maximum water flow
Durable steel construction that holds up to large amounts of water, ice, and snow better than traditional gutters
An attractive aesthetic look in your choice from among more than 30 colors to complement your home
What's more, you can relax knowing that your purchase of new high-performance gutters is completely protected. That's because our gutter systems not only come with our Lifetime Material Warranty, they are also covered by a 10-year workmanship warranty.
For more information on having us install seamless steel gutters on your home in Bloomington, Minnesota, contact DuBois ABC Seamless today.