Replace Your Old, Leaky Gutters in Apple Valley, MN with a Steel Gutter System from DuBois ABC Seamless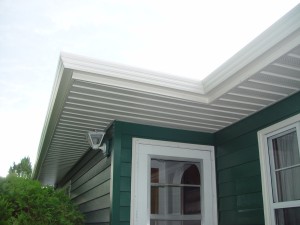 DuBois ABC Seamless installs top-notch seamless gutters for homeowners living in or near Apple Valley, Minnesota, using heavy-gauge steel to create a steadfast protection system for your home. Gutters are important because they prevent rainwater and snowmelt from wreaking havoc around the perimeter of your home, channeling it away from the foundation where it can seep harmlessly into the soil.
We install designer, fascia-style gutters with hidden fasteners, designed to blend into your home's exterior. We fabricate these stylish gutter systems on site, using the exact measurements of your home's roofline, ensuring a perfect fit from corner to corner. That's important, because a properly fitted gutter system is better able to withstand strong winds and heavy loads under wet snow and thick ice.
There are many reasons why homeowners in and around Apple Valley, MN, choose DuBois ABC Seamless to install their new gutter systems, including:
Durability – Our gutters are made from steel, not flimsy aluminum, so they won't dent or collapse under the weight of a ladder, or other common external force.
Reliability – A gutter system from DuBois ABC Seamless handles 23 percent more water than standard gutter products.
Flexibility – Our gutter products come in a wide array of colors, so you'll be able to choose the perfect look for your home.
To learn more about our extraordinary gutters, call DuBois ABC Seamless today. We're proud to serve families in Apple Valley, MN, and all nearby communities.