Gutter Covers Can Help Lakeville, MN, Homeowners Avoid a Number of Problems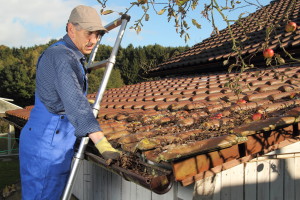 If you're looking to avoid the hassle of gutter maintenance by having covers installed on your Lakeville, Minnesota, home, look no further than DuBois ABC Seamless. We have been providing our customers with seamless steel gutter solutions since 1993 and have maintained a reputation of excellence and integrity by offering durable, high-performing products installed by factory-trained, experienced professionals. Our dedication to helping residents protect and improve their homes has earned us a spot on Qualified Remodeler Magazine's Top 500 list numerous times.
Our gutter covers are beneficial to homeowners in a variety of ways. For example, when you choose DuBois ABC Seamless to install these products on your home, you can prevent certain problems, such as:
Risking injury by climbing a ladder to clean your gutters
Roof and structural damage caused as stagnant gutter water seeps out
Topsoil and foundation erosion from overflowing rainwater
For customers who want to avoid these and other hassles, installation of DuBois ABC Seamless' Hurricane Leaf Protector™ gutter covers, constructed from 28- gauge, hot-dipped, galvanized steel, can do the trick. These products are built to withstand the often wet and cold weather conditions of the Lakeville, MN, area without warping or cracking. They also feature a low-profile design that won't stick out abnormally away from your current gutter system. By having gutter covers installed on your home, you will eliminate the time and effort required for constant gutter maintenance and improve the value and longevity of your home, all with a product that integrates beautifully with the existing structure.
If you would like to have durable, high-performing gutter covers installed on your home, contact DuBois ABC Seamless today and schedule an on-site consultation with one of our gutter specialists at your Lakeville, MN, home. And be sure to ask them about our financing options.