Gutter Covers from DuBois ABC Seamless Help Keep the Gutters of Your Eagan, MN, Home Working Perfectly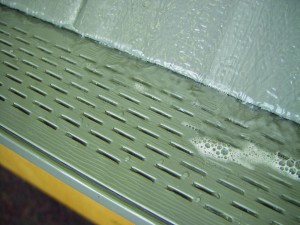 With gutter covers installed by the experts at DuBois ABC Seamless on your home in the Eagan area of Minnesota, you'll never have to climb onto your roof to clear out debris again. Our Hurricane Leaf Protector™ gutter guard is a low-profile gutter protection system that filters out debris, such as leaves, sticks, and seed pods, that can block the flow of water. With the Hurricane Leaf Protector™ system, your gutters will be able to perform at maximum capacity all year long.
Many homeowners throughout Eagan, MN, turn to DuBois ABC Seamless for our highly effective gutter covers, which can help prevent such issues as:
Rotting of roof materials from water overflowing from the gutter's edge into the roof
Flooding of the basement due to the pooling of rainwater that is not properly channeled away from the home's foundation
Erosion of the topsoil around the home from the large volumes of water falling from overflowing gutters
Wearing down and washing away of paint on the home's exterior
What's more, our gutter covers are designed to fit easily into most gutters without the need for screws or nails that can allow water to seep through into your roofing. These covers are also available in all of the same attractive colors as our seamless steel gutters.
For more information about the gutter covers we install for homeowners in Eagan, Minnesota, and beyond, contact DuBois ABC Seamless today.