Quality Exterior Siding for Homeowners in Apple Valley, MN & All Surrounding Communities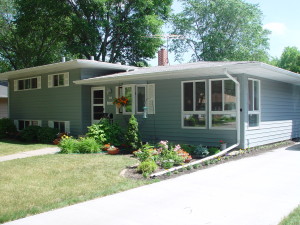 Homeowners looking for top quality exterior siding to help protect and insulate their homes in or near Apple Valley, Minnesota, know that the company to call is DuBois ABC Seamless. We have assisted countless homeowners in the region since 1980, manufacturing and installing rugged-yet-beautiful exterior siding that makes an immediate improvement in the curb appeal and energy efficiency of their homes. Plus, our siding is so low maintenance that, with the exception of an occasional rinse with a garden hose, homeowners will never have to think about their siding again.
Our exterior siding has a number of features that sets it apart from any other product on the market today, and makes it perfect for your home in or near Apple Valley, MN. These features include:
Durability – Our siding is made from heavy-gauge, hot-dipped, G-90 galvanized steel, and is capable of withstanding impacts from hail, wind-blown debris, errant toys, and much more.
Perfect fit – We custom-fabricate your new siding on site, using the precise measurements of your home, so it stretches seamlessly from corner to corner, resulting in a finished, sophisticated look.
Energy efficiency – Our siding sits atop a blanket of thick insulation, helping to maintain a more even, comfortable indoor temperature and reducing the workload on your heating and cooling system.
To learn more about our exterior siding and how it can benefit your home in or near Apple Valley, MN, contact DuBois ABC Seamless today.